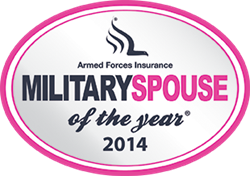 Four MSJDN members are among the newly announced nominees for the 2014 Armed Forces Insurance Military Spouse of the Year. Join us in congratulating Josie Beets, Reda Hicks, Betsy Post, and Rachel Winkler for their dedication to the military community and our country! The first round of voting lasts for only 24 hours on January 21, so don't wait to vote.
Josie Beets: Josie is an Army wife and mother to two young children. She works as the Public Policy Coordinator for the Tennessee Bar Association. Josie works with MSJDN on the communications team, as well as coordinating pro bono volunteer efforts for lawyers interested in providing free legal services to military families. She is also a blogger for the Work Life Balance Protection Agency.
Reda Hicks: Reda is an Army wife and mother to a three-year-old son. She is a partner with Diamond McCarthy LLP, a Houston, Texas-based litigation firm. Reda donates much of her spare time to her many roles with MSJDN, including a seat on the Board, work on the Government Affairs Committee, and as Managing News Editor. Reda is also active in her church's ministry and serves on the board of Leadership Houston. She also writes at her own blog Hicks Hiking.
Betsy Post: Betsy has been a Marine Corps wife for almost 14 years. She graduated from college Summa Cum Laude in just three years and was the youngest graduate in her law school class. She previously worked as a litigation attorney in the D.C. area. After her husband received orders to Camp Pendleton, Betsy was able to transition her career and now does legal consulting work for the federal government.
Rachel Winkler: Rachel is an Army wife who previously geo-bached for over three years across four states, but now lives in North Carolina with her husband. A member of the Arizona bar, she handles immigration policy for the federal government. Rachel serves as Vice-President of MSJDN and has been successful in changing attorney licensing requirements in multiple states. She is active with In Gear Career's Ft. Bragg Chapter, volunteers as a Guardian Ad Litem and is a member of the Junior League.
Since 2008, Military Spouse Magazine has selected a Military Spouse of the Year.  Nominations are accepted from the public and the winner is chosen through online voting and a judges' panel. The first of three voting rounds occurs over just a one day period on January 21. Voting culminates with the announcement of the Military Spouse of the Year at an awards luncheon in D.C. in early May.
The first round of voting takes place only on January 21, so don't wait! Vote today!